Compliance is our priority
---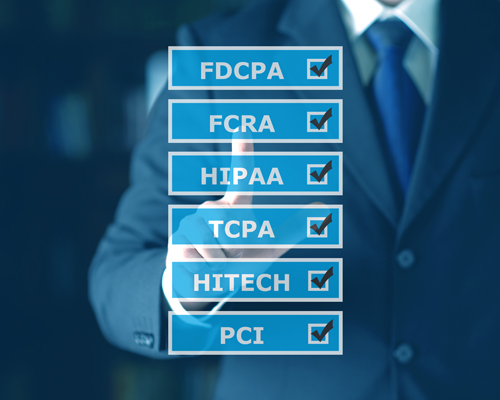 Trinity Hope complies with all governing Federal, State, and Local regulations. We hold ourselves to the highest compliance standards in the industry. We also adhere to a strict code of ethics to ensure professional collection procedures. Using abusive or harassing techniques is never permissible.
If you have any concerns with our compliance, please send us your questions or comments.
FDCPA
The Federal Trade Commission (FTC), the nation's consumer protection agency, enforces the Fair Debt Collection Practices Act (FDCPA), which prohibits debt collectors from using abusive, unfair, or deceptive practices to collect from you.
FCRA
The Fair Credit Reporting Act, is U.S. Federal Government legislation enacted to promote the accuracy, fairness, and privacy of consumer information contained in the files of consumer reporting agencies.
HIPAA
The Health Insurance Portability and Accountability Act Privacy Rule establishes national standards to protect individuals' medical records and other personal health information and applies to health plans, health care clearinghouses, and those health care providers that conduct certain health care transactions electronically.
TCPA
The Telephone Consumer Protection Act restricts telephone solicitations (i.e., telemarketing) and the use of automated telephone equipment.
HITECH
The Health Information Technology for Economic and Clinical Health Act widens the scope of privacy and security protections available under HIPAA; it increases the potential legal liability for non-compliance; and it provides for more enforcement.
PCI DSS
The Payment Card Industry Data Security Standard is a proprietary information security standard for organizations that handle branded credit cards from the major card schemes.